Healthy Habits
DippyCups are fun, reusable, silicone condiment cups for Kids!
Kids naturally love to Dip and getting them to happily eat their fruits and veggies is a dream come true…

Perfect Portions
Fill DippyCups with your child's favorite dippy sauces, such as ketchup, ranch, syrup, and yogurt.
The small, two-tablespoon size is the amount most recommended on condiment nutrition labels, so kids have fun dipping veggies without all the extra calories and you teach them about portion control!
Safe & High Quality
DippyCups are proudly made in the U.S.A. from 100% FDA-grade silicone, the same as baby bottle nipples, and they're BPA-free. DippyCups are slip-resistant so they'll stay on the plate, which means, less mess and they're dishwasher safe.
DippyCups will LAST, from Toddlers to Tweens, with easy care! A great investment in Healthy Habits…
Award Winning
Winner of both the Disney i-Parenting award, and Creative Child Magazine Award for Best New Feeding Product.
Adorable, award-winning DippyCups, help YOU teach your children healthy eating habits while making clean up a snap.
Buy a Rainbow Pack today
Like many parents and caregivers all over the country, you'll soon discover that you and your children will love using DippyCups at every meal!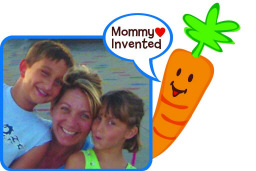 All the best,
Lisa Ann Savage
Mom Inventor – DippyCups
Encourage healthy eating habits!
Quality Product- Made in the U.S.A